CRUCIFIED BARBARA, exponent Swedish band formed only by girls is on the road since 1998. At first the band had a more punk rock style, but moved to Heavy Metal soon. With the addition of lead singer Mia Coldheart, the band signed with Swedish label GMR and released their first album "In Distortion We Trust" in 2005.
Since then CRUCIFIED BARBARA can play on tour with Motorhead, Sepultura and others, became well known to the European metal scene, participating in several Rock Fests.
On the eve of entering the studio to record their third album, ROCK EXPRESS contacted the band in an exclusive interview with lead singer Mia Coldheart which had a little more about the band and what to expect from the new album! Check it.
by Edu Lawless 
ROCK EXPRESS – Recently CRUCIFIED BARBARA revealed by the official website to be working on a new studio album. Tell us more about this new album? What the fan can expect from this new album?


Mia Coldheart – We don't want to change anything, just make it better. Like before we are not afraid to mix different styles and there will be more focus on melodies than before. Of course we are planning to make the best album so far!
ROCK EXPRESS – In the first album 'In Distortion We Trust' the band has a sound, how I can say, more dirty. In 2nd album the sound seems to follow a trend more hard rock, but no less heavy. How do you see these two albums and now the new work trend?
Mia – The first album is more raw in one way but with the second album we wanted to sound more like we do live, and we are still working on that with the new album. Loud, dirty and sweaty! We want the new album to be a bit more dirty and less modern, but still up to date. We have great equipment now so we have the ultimate sound on stage, and we will do our very best to add that feeling to the album.
ROCK EXPRESS – I could hear two unreleased songs ('Fire' and 'Heaven or Hell') posted on CRUCIFIED BARBARA MySpace, in my opinion excellent songs, and with a touch more Hard Rock style. They will be the new album? They would be a preview of what was to come on this new album?
Mia – 'Fire' was meant for the last album but it was released later with the single for 'Jennyfer'. 'Heaven or Hell' was a song that we participated with in the Swedish part of Eurovision Song Contest, a really fun and a bit crazy experience! That track was released as a single only and these songs will not be released again with the new album.
But both of these songs have pretty strong melodies and it could be a preview in a way since we are working more on melodies now than before.
ROCK EXPRESS – The new album already has name? Do you have a forecast for launch it?
Mia – We don't have a name for the album yet, we'll see when all the tracks and lyrics are done, what we come up with! We will record it in September and October, and then we hope for a release early next year but there is no date decided yet.
ROCK EXPRESS – The song 'Jennyfer' (from second album) caught my attention. The lyric of this song seems have personal feelings to someone of the band or someone close of them. What the history behind this song?
Mia – It's about someone who's been through some hard times and bad relationships, she don't believe she deserves better and it's hard to get out of that negative spiral -and start believing that someone can love her for the person she really is.
It's about to encourage to keep the head up high even when times are rough 'cause there are people who cares, and that it's possible to find a way out of the darkness.
We had someone in mind when we wrote the song but it's also a mix of different persons, feelings and experiences, both our own and others.
ROCK EXPRESS – In the original version of first album you have made covers of KISS and Motorhead. Which the main influences of CRUCIFIED BARBARA?
Mia – We always have problems answering this question, the band don't have some main influences that we have in mind when we write songs. We all began to play music ourselves because we loved Nirvana, Hole and all the cool bands from the "grunge" era, even though we didn't know each other that time, we met years after and formed the band. Now we listen to all kinds of music.
I just askedKlara (Klara Force – guitar) now what she would say as our main influence, we are at my place writing songs. She said spontaneously: sex, death and old school heavy metal. So we'll keep it like that!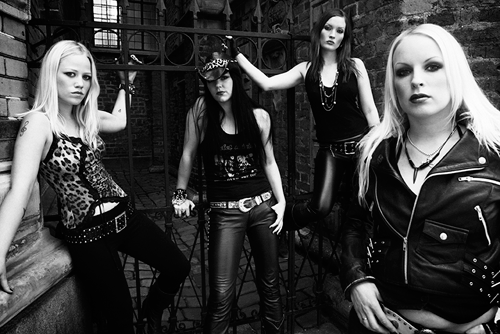 ROCK EXPRESS – There are more girls band coming from Europe than in other parts of the world and Sweden is one of the cradles of the new scenery of the female bands. How do you see that?
Mia – Sweden is a great country to play music, there are so many great bands around so there is a lot of competition but still everybody are cool and get along well. There are many youth organizations that are supporting young bands to start to play and find rehearsal rooms etc, so it's a good climate for bands to grow in. Both for boys and girls, so I think that encourage also girls to play more. There are so many more young girls playing in rock bands now compared to when I started to play 16 years ago, so I think you can expect a lot more of great female rock bands in the future.
ROCK EXPRESS – Which female band that CRUCIFIED BARBARA has a great influence? Who you consider a great name to female band now a day?
Mia – We don't have a main female influence for Crucified Barbara, we are just inspired by great bands. We don't think in terms of male and female when we listen to music. But I was very inspired by Courtney Love when I first started to play and wanted to be like her. Then I got more into metal and wanted to be like Marty Friedman instead, ha-ha. I was also very inspired by Drain STH and Phantom Blue, especially the album Built to Perform with the great guitarist -and amazing person- Michelle Meldrum (RIP) and Gigi Hangach cool rock vox was also an eye opener for me even before I began to sing myself.
ROCK EXPRESS – CRUCIFIED BARBARA is already well known to European Metal scene, mainly doing part of the biggest gigs fests. How you see the audience of CRUCIFIED BARBARA around the others continents, especially in South America?
Mia – It's amazing to see that we have such a big fan base even in parts of the world that we haven't done any tours in yet. We get a lot of requests from people in South America and we really think it's about time that we come over for a tour there!
Of course it's a dream to tour the world, if the new album become a great success –which is our plan of course, it might happen soon!
ROCK EXPRESS – There's any possibility or intention to come from Brazil soon?
Mia – We have got some good contacts in Brazil so I think we'll definitely gonna come and play when we have released the new album!
ROCK EXPRESS – Now just some personal questions:
Which rock legend with whom you have played and it was unforgettable?
Mia – It was amazing to do the 4 week UK tour with Motörhead in 2006! On the last gig in London, Phil Campbell joined us on stage and played Killed By Death with us, that was one of the coolest moments ever, the band has never sounded better ha-ha! It was a true honor to be invited by Lemmy and the band to support them. Then it was also a great week when we toured in Scandinavia with Sepultura and In Flames!
ROCK EXPRESS – Which rock legend with who you'd like play one day?
Mia – Personally I would really like to tour with Alice in Chains, they are my teenage idols.. There are so many bands that I like but there is something special for me with this band because they meant so much to me when I began to play and formed my musician identity. Unfortunately I can never see Layne Staley on stage but if I ran into Jerry Cantrell backstage I would be so shy that I wouldn't be able to speak!
ROCK EXPRESS – Which your top 3 albums?
Mia – Ten (Pearl Jam)– there is not a bad song on this album. I love the songs and the emotions that I get when I listen to it.
Dirt – (Alice in Chains) – Such a great album, I love the mix of heavy riffs, roughness and vulnerability. And the melodies that so many bands have tried to copy without success, in my opinion.
Countdown to extinction – (Megadeth) – it was a big influence to me when I was younger and it's still inspiring me to listen to this album.
-And to bring in some more metal to the list, Klara next to me says Reign in Blood (Slayer). Good choice.
ROCK EXPRESS – Which your top 3 songs?
Mia – Once again I will give you a (spontaneous) selection from the whole band, -except from Ida because she is not here right now!
Klara – Regniga natt with (Anna-Lena Löfgren)
Nicki – Painkiller with (Judas Priest)
Mia – Hangar 18 with (Megadeth)
Thank you for the opportunity to present the band and the work with our new album, we hope to see you all when the album is released and we're coming over for a tour! Check out our website for constant updates and blog posts from our gigs and the studio work.
Cheers, Mia and Crucified Barbara
www.crucifiedbarbara.com
www.crucifiedbarbara.com/facebook
***
GMR Records will probably be released on September a documentary with Crucified Barbara on DVD, recorded during 2009 European Tour, following the girls closely day by day. And for metal fans who want to buy the CD's and Singles EPs check out GMR website (www.gmrmusic.se) at online store. They send the items around the world.